Impressions
Digitalalising Goose Lane
Amatoritsero Ede in Conversation with Julia Scriver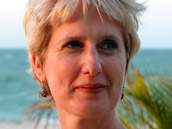 Julia Scriver is a graduate of Mount Allison University. She joined Goose Lane Editions in 1985 and became a partner in 1988. As Art Director of Goose Lane, she sets the standard for visual communications and manages the design and production process. She has designed more than 250 full-length publications and designed and supervised the fabrication of permanent, stationary, and touring museum exhibitions.
Amatoritsero Ede: Goose Lane is one of Canada's dynamic small presses. In what ways are you unique? Let us begin with your audio books. I am not sure many small presses produce that.
Julia Scriver: Goose Lane is, in fact, one of a few publishers of audio books in Canada. The audio line has been a very happy collaboration between CBC Radio and Goose Lane for many years. We perceived an extraordinary wealth of literary material in the productions at CBC and were eager to have them find a larger audience and a longer shelf life than the length of the broadcast. All media is in a dramatic state of change, though, and the audio line has yet to make the transition to downloadable product.
A.E.: How do you negotiate international distribution?
J.S. Our distribution tends to be more focussed on the North American market, with small inroads into international markets with finished copies. We see opportunities in the international market more clearly in rights sales than in the sale of finished copies.
A.E.: What are the intersections between marketing and production, and how does the former influence the latter?
J.S.: Marketing plays a significant role in the evolution of the product. We invest a lot of time and energy in discussing the target market for a book, before we sign the author and once we've committed to the book to a given season. This dialogue ensures that we are all working with the same understanding of the nature of the book, and where we want to take the book/author. In the course of design and production, we solicit opinion from the author, our sales force, as well as internal editorial, promotion, publicity and marketing staff. Of course the sales potential for each title informs decisions about production options (methods of printing, binding, etc.). Books with greater market generally allow for a little more latitude in design and production choices. We continue to strive to give every book its due. We all seem to have landed in publishing for the love of books, and after 25 years in the business, I still hold dear the selection of type, the development of cover imagery, and all aspects of the creative process and the dialogue with everyone involved.
A.E.: Of course, the computer has superseded plate making. But do you still use any of the traditional printing methods?
J.S.: With the exception of a few very special projects, we've tended to stick to traditional commercial printing methods. I stand in awe of Andrew and Gary at Gaspereau Press. Their commitment to letterpress work is inspiring and their work beautiful. It's been a pleasure to work with them. The trade printers that we deal with are highly committed to book production. Over the years, I have whittled the list down to a few trusted suppliers. Their understanding of our commitment to quality makes them cherished partners in the work that we do.
A.E.: There is so much talk of eco-consciousness these days. Surely you do have green aspects to your printing processes?
J.S.: Broader environmental concerns have affected our thinking about paper for many years. We've been committed to PCW content forever, it seems, and do our best to employ FCS products as much as possible. In our inter-office work we try to reduce and recycle as much as possible. And of course, digital printing (CRKN project, etc.) move us away from paper altogether.
A.E.: In what ways would you say that the transition from analogue to digital practice in the printing industry is environmentally friendly?
J.S.: The most significant impace that I perceive is the print on demand aspect. We all know the press run "miscue" boxes of stock languishing in a the warehouse. Digital, on demand printing allow us to better manage the challenges of a fickle and unpredictable market.
A.E.: Actual presswork itself is a 'messy' business. Colours are chemical compounds and they need to be recycled. Is Goose Lane concerned with how its printers dispose of ink waste?
J.S.: Absolutely. The select printers that we do deal with express a strong environmental commitment.
A.E.: What role, if at any, has Publish-on-Demand, in your production process?
J.S.: We typically employ publish on demand for media previews (Advance Reading Copies) and for some of our clients in the design service part of the business. Many self publishing authors or small institutions fare better with a higher unit cost, but lower overall bill in opting for lower digital press runs.
A.E.: What are your preferred printing practices – choice of paper, printing, type of binding, and so on?
J.S.: We publish such a wide array of book a genre, that I can't really say that there is a specific preference other than quality and environmentally sound paper choices. That being said, I still dream of a project with an unlimited budget where specialty binding, real cloth covering, embossing, interior gate folds, etc., are all possible.
A.E.: Thank you for giving us some of your precious time.
J.S.: I still love what I do (even after 25 years) and feel so extraordinarily fortunate in that. It's a pleasure to come to the surface and consider these questions. Thank you for the opportunity.