The Educational Impact of Toronto International Film Festival Group
In conversation with Theresa Scandiffio, Manager of Adult Learning for TIFF Bell Lightbox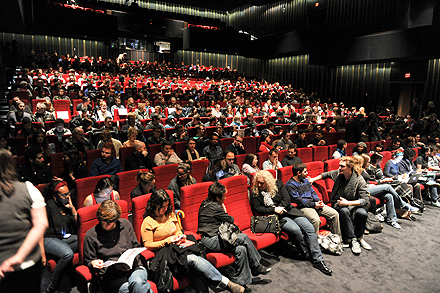 © Toronto International Film Festival Group.
Tom Ue: Through many avenues, the Toronto International Film Festival continues to foster greater interest in films among the wider community. One such intiative is the Higher Learning series. What are some of your goals for Higher Learning?
Theresa Scandiffio: A primary goal of Higher Learning at TIFF Bell Lightbox is to provide programming and learning resources to university and colleges working in cinema and media. To accomplish this goal, Higher Learning takes advantage of the educational resources at our disposal at TIFF Bell Lightbox, as well as the professional networks we have in the broader local film and media communities at large. The two central ways that educational institution can engage with Higher Learning at TIFF Bell Lightbox are:
Curriculum-based Programmes: On Friday mornings, our learning studios and cinemas are available to faculty members who would like to organize events (e.g. lectures, workshops, panels, and screenings) for their undergraduate and graduate student courses. These programmes need not link directly to TIFF Bell Lightbox programming, but instead are determined by the kinds of curricula being offered by faculty members during the given academic term. When possible, we will provide materials (e.g. DVDs, film prints when available; materials from the Film Reference Library and Special Collections, etc) that help foster optimal learning environments for the students and faculty. We encourage the faculty members to think of a lecture or workshop that would help bring together students, faculty and administrators from a number of different programs and schools in the area.
Guest Speakers: Higher Learning invites local guests as well as those who are in town for programming at TIFF Bell Lightbox or for events at local universities and colleges.
T.U.: Tell us about some of the highlights of the series this fall.
T.S.: It has been an incredible first semester, but for us the strength of the series is that we have brought a number of different programs and schools together to both engage with our guest presenters as well as each other, thereby strengthening our academic community. For instance in our inaugural event (in 2010?) David Cronenberg's and Ron Sander's presentation of Videodrome brought together students and faculty from over twelve cinema and media programs from nearby universities and colleges. And Archivist and film scholar, Jacqueline Stewart's talk on the politics of film preservation brought together students, faculty and archivists from African American studies, photo preservation, history, and cinema studies. Students and faculty members from documentary Masters Programs as well as culinary programs are coming to TIFF Bell Lightbox this Friday December 3rd 2010 for legendary documentarians DA Pennebaker and Chris Hegedus' presentation of their latest documentary, Kings of Pastry.
T.U.: How have students responded to this series?
T.S.: The response has been very positive. Most of the students first attend these events as a group (with their classes), and then return on their own for additional lectures or screenings.
T.U.: Has there been any surprises?
T.S.: I think the biggest surprise for me has been the number of schools that take time out of their very busy schedules to bus in from out of town – London, Belleville, Durham, Niagara, etc, on a regular basis. It is fantastic. We are also always very humbled by the fact that esteemed guests – from DJ Spooky to Tim Burton and Jacqueline Stewart – are very eager to take time out of their busy schedules to work with local students and faculty.
T.U.: Higher Learning has featured a number of excellent filmmakers including directors David Cronenberg and Jacob Tierney. Tell us about the selection process of guests.
T.S.: Higher Learning invites local guests as well as those who are in town for programming at TIFF Bell Lightbox or for events at local universities and colleges. The guests are internationally renowned media experts from a broad spectrum of academic disciplines and professional fields (such as: cinema and media studies, art history, cultural theory, filmmaking, sound engineering, film distribution, gaming and new media programmers, animation, to name a few). We work with the guest speakers to tailor their event to fit the needs and interests of the students and faculty members. They have all been very generous with their time and engaged with the students and faculty. The goal of the events is to give the students and faculty exposure and access to all kinds of experts in the fields of cinema and media. The forum for the events will range from small master classes in one of our learning studios to large lectures and on-stage presentations in one of our cinemas.
T.U.: So far, guests include not only filmmakers but also scholars like Prof. Jacqueline Stewart and musicians like DJ Spooky. Does this initiative reflect TIFF's efforts to promote interdisciplinary studies in the arts?
T.S.: Absolutely, cinema is in itself an interdisciplinary medium. We are dedicated to examining the intermedial and interdisciplinary role of film, video, new media and gaming from a wide range of artistic, cultural, social, historical, political and technological approaches.
T.U.:. Who might we expect in the coming year?
T.S.: We have a fantastic line up for the Winter and Spring calendars – there is a presentation and screening in conjunction with TIFF's Canada's Top Ten (see http://tiff.net/topten); Starz Animation is bringing in Artistic Director Kevin Adams for "The Making of 9" (movie or docu?); Africanist Film scholar Aboubakar Sanogo of Carleton University is joining us to do a lecture on the African pioneer filmmakers, The Lumière brothers.
T.U.: How might students follow up on some of the things that they learn in this series?
T.S.: There are a lot of ways they could follow up, but two central ways that comes to mind:
They can use our on-going resources like our Higher Learning programmes, the manuscripts and collections from the Film Reference Library as well as our public screenings to develop and strengthen their course assignments and projects. They can also take advantage of the connections they are making with fellow students and faculty as well as the guest speakers to help them develop their own film/media projects, obtain internships and possibly future employment.
T.U.: What are some of the challenges of putting together this series?
T.S.: Higher Learning has been very successful and we are continuously working to improve it. We are working to ensure that our events supplement and enhance the curriculum of university and college programmes, rather than tax their already full schedules. Also there has been huge interest in our guests, such as Tim Burton and David Cronenberg, to a point that we were not able to accommodate all those requesting to attend.
T.U.: Will this series continue after this school-year?
T.S.: Yes, we are just getting started. Higher Learning programmes and resources will be available every academic year, from September through April.
T.U.: What are some events and workshops that students can sign up for this summer?
T.S.: While our Higher Learning programmes end in late April, students can enjoy our public and film programmes all year long – from the Tim Burton and Mary Pickford exhibitions, to In persons and lectures, we will continue to have events and exhibitions that fulfil our educational mandate.
T.U.: What are some of the other TIFF series that you are working on?
T.S.: We are always working to provide ancillary programming to our Film Programmes and Public Programmes – from lecture series, to workshops and tours at our Film Reference Library. As well as some exciting programming to be announced soon.
T.U.: Thank you for taking time off your busy schedule to talk to MTLS!