Musical Score
In conversation with director, Michael McGowan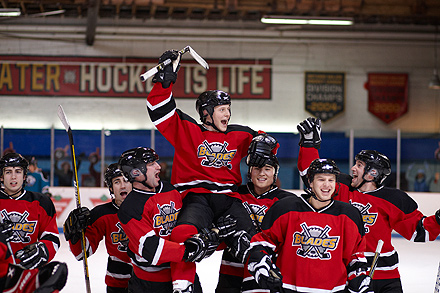 © Toronto International Film Festival Group.
Tom Ue: First off, congratulations with Score: A Hockey Musical, which was not only selected for the Toronto International Film Festival, but also opened the festival! Were you nervous about having the film launch a festival that features so many excellent films?
Michael McGowan: Thanks. Of course I was nervous. It's a big target that's put on the film's back to be open the festival. However, the attention that was given to it and the incredible response made it a night to remember. That and the fact that I got to meet Darryl Sittler.
T.U.: What inspired Score?
M.M.: Delusion. Alcohol. Machismo.
T.U.: What made you decide to film a musical?
M.M.: I wanted to try something different and I had used a lot of music in both my previous films, so it seemed like a natural progression. Plus I'm a wannabe rock-and-roll guy who has no musical talent, so this seemed like a way to get in with the cool kids.
T.U.: Making a musical with original songs must be quite a challenge! What happened behind the scenes with the song writing and the choreography?
M.M.: We basically spent months making sure that when we were ready to film, everything was the way we wanted it. That involved many passes at the music, the lyrics and the choreography. There were some bench brawls, tears and shattered egos, but a small price to pay for art.
T.U.: How did you decide when to integrate a number?
M.M.: There just seemed to be a rhythm to when a song should come. It was more intuitive than deciding every six pages or four and a half scenes or something rigid like that.
T.U.: What was it like directing a legend like Olivia Newton-John?
M.M.: Fantastic. She's rather "un-legend-y" in her everyday demeanour so that made it easy on all of us. Plus she's loads of fun.
T.U.: In addition to writing and directing features, you also direct TV shows, including an episode of Being Erica. How are the experiences of directing features and shows different?
M.M.: Directing episodic has it's own stresses, but unlike writing and producing as well as directing which I do on my features, I'm only worried about the directing. It's a chance to play in a sandbox with established rules and see how you can reinvent and also work within that framework.

T.U.: I saw Saint Ralph a number of years ago at the Toronto International Film Festival. Like Score, it is also about a sporting event, in this case, the teenaged Ralph who trains for the 1954 Boston Marathon in hopes that the impossible victory will wake his mother from a coma. What drives you to film and tell stories about and through sports?
M.M.: There's so much drama inherent in sports, it naturally lends itself to story-telling.
T.U.: Sport films have almost become a genre of their own. How do you see your work as being different?
M.M.: It's all about the tone, the voice and the sensibility. Hopefully creating stories that no one else could tell and hopefully that's what makes them unique.
T.U.: With Saint Ralph, One Week, and now Score, many of your films are shot in Canada. Tell us about filming here.
M.M.: I'm a staunch Canadian. I love this country and find it such a privilege to work with extremely creative and talented actors and crews. Plus the maple syrup is much better in Canada.
T.U.: You also wrote and produced the stop-motion children's TV show Henry's World and wrote for the animated series Jacob Two-Two. These experiences cannot be more different from writing for and directing live actors! Tell us about filming for children. They're surprisingly not all that different. It's all about trying to tell a good story no matter what length or format you're working in. Though children have a way shorter attention span and tend not to take me as seriously as I'd like they're our future, so I work with them.
T.U.: You are also a prolific writer whose articles have appeared in The Globe and Mail, and who authored the novels Newton and the Giant and Newton and the Time Travel Machine.
M.M.: Having worked with stop-motion, authored books, and filmed a musical, what is next for you? I'm working on another script that I hope to shoot next fall. If I can keep the voices inside my head that scream, "you're a fake! Stop this charade now!" quiet long enough I might just get a draft done.
T.U.: Thank-you so much for your time, Michael, and best of luck in your feature endeavours!
M.M.: Many thanks. Go see the film. It opened October 22nd, 2010. If you don't like it, I'll give you your money back.